We're closing in on the end of June and we have little progress on the build to show for it. Some of the delay has been because of the unusually wet spring we had in New England. It's hard to move dirt when it turns into mud in the torrential downpours. Part because of communication lags between the excavation phase and the foundation phase. Part because this is a small project compared with the larger commercial projects our contractors also are responsible for, so when the choice is between pouring concrete for a large building or a subdivision versus our garage project, it's not hard to see why we're still without a foundation.
But we have footings, and we've heard from the builder that the foundation will start to be poured tomorrow. Keeping fingers crossed.
The other way of measuring time is by watching the seasons progress. When be first bought StarField Farm, it was deep winter, full of stillness and silence.
Now, we revel in the sounds of birdsong, wind rustling in the trees, the brook gurgling over rocks, frogs and crickets in the evening.
And everything is green.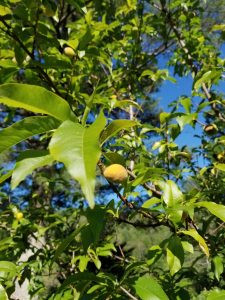 The peaches on our 3 trees are getting noticeably larger each time we spend a weekend here. They are now about 1 and 1/2 inches in diameter. The last weekend we were here, they were about half that size. That was the day I culled about 25% of the fruit on the trees, lest the weight of the peaches bring the limbs down.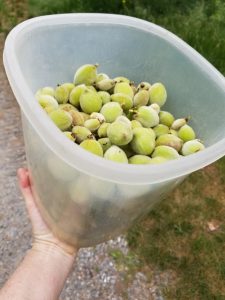 Last night, just as I was remarking to Neil that I was disappointed that I hadn't seen fireflies, they started sparking in the low light of dusk. We watched from the back porch as the fireflies were replaced by the distant wink of stars overhead. I think we even saw the ISS zip by.