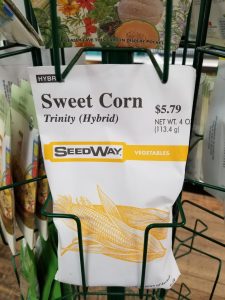 I've never lived in a place that had a farmers co-op. There is one in Hardwick, MA and we joined as shareholders one of our first weekends there. Right now, I feel like a major fraud whenever we shop there. I'm no farmer. I am skilled at ignoring plants to death. But Neil is a master at growing flowers and vegetables, from seed, and with lots of TLC.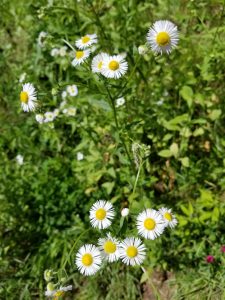 These lovely flowers are growing in the area we fenced in for the pups. To me, they look like miniature daisies and I didn't want to pull them out, but the dog run was overrun with them, so Neil had me play plant-slayer with him. We decided to leave clumps of wildflowers AKA weeds, to make it look a bit like a meadow, but with places for the dogs to 'go'.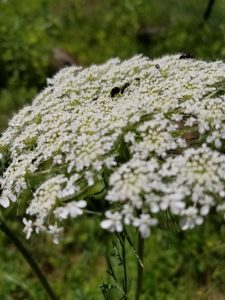 I know these are Queen Anne's Lace. I also know that Neil is very allergic to it. How do I know that? When we were first dating, I picked some wildflowers from near where I lived to give him a bouquet. What I gifted him with was a bunch of allergens. 😉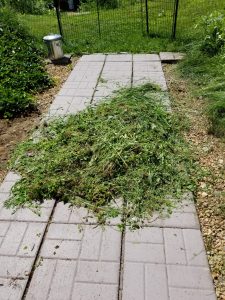 The "carnage" after clearing out the dog run. I was all pleased with myself over the work I'd accomplished. Then Neil told me it would have to be done again. And again. And again.
Apparently, weeding is a never ending task.
Who knew? Not this city girl.
We actually accomplished a lot this weekend, aside from the tiny progress we made in weeding. We bought and put together outdoor patio furniture and an umbrella and it's like having an outdoor living room!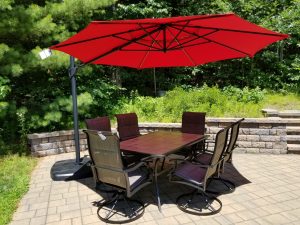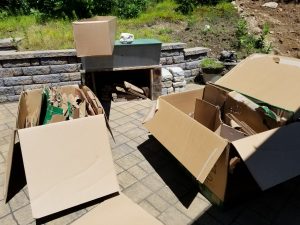 Some assembly required. . .
And speaking of assembly, the foundation work is done and the leveling is complete. Here's a photo of the build site ready for the slab pour!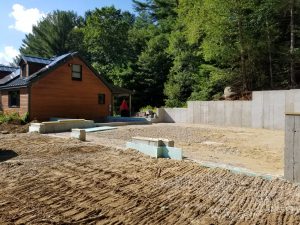 Next up: Framing the actual building! Wheeeee!