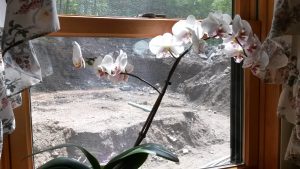 We have a big hole in the ground. While it looks like a mess of earth and rocks, this is what will be our barn/addition to the house at Star Field Farm. It took some doing, given the weeks of rainy weather, but the preparation wor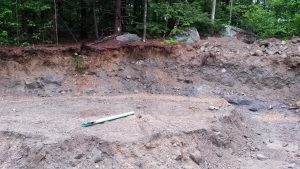 k is done and they will begin the next stage of pouring the foundation starting on Thursday.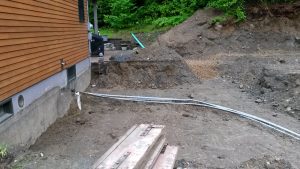 This is what will be the mudroom and new entrance to the house; a connector to the garage and the new master suite above it.
I'm a woman of fairly simple wants. I don't care about jewelry. Don't like roses, long stemmed or otherwise. But sweet talk me with a description of a mud room? :swoon:
We had a great meeting with Rich from Geobarns, who will be coordinating the build. Even with my difficulty 'seeing' things in my mind's eye, I could absolutely envision how beautiful this will be, how much it will reflect our aesthetic, how wonderful it will be to have friends and family come to visit.
Our neighbors were upgrading their living room and gave us their old sofa. One U-haul trip later, and they are now in the middle of our dining room. Eventually, we will get a table and the sofa will be moved to what will be my office/spare room upstairs.
We're in this interesting transition phase: we weren't ready to move and can only realistically use the place a few weekends a month, depending on Neil's call schedule. The sellers were not quite ready to move up to their new place in VT. So we have an arrangement where we've rented the place back to them for a low rent in return for access two weekends a month. While they are transitioning out, we are slowly moving things in.
The dogs are already at home.
I took them on a long tromp in the woods, despite the threat of ticks. The dogs have their sorresto collars, I have a set of dog walking/hiking clothes I treated with permethrin. And a friend made us a spray bottle with essential oils to try.
After a good 40 minute walk, I was tick free, Mya had one I squashed. Dustin, because he's lower to the ground and has longer hair, had a half dozen. Most clinging to his tail fur. Interestingly enough, I had sprayed his paws and belly with the essential oils, but not his tail.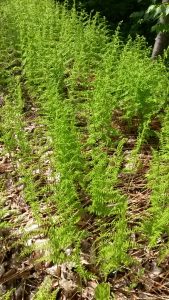 What a difference 2 weeks makes. When I was here last, the ferns had just poked up from the ground. I could have harvested a ton of fiddleheads! This weekend, everywhere I walked I saw miniature fairy forests of ferns. (Ohh, good alliteration!)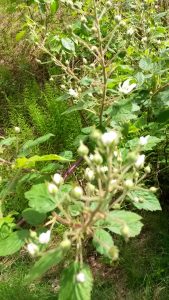 There is also a profusion of both raspberries and blackberries growing wild all along the woodland paths. It's going to be a race between Lisa and all the critters to see who gets the ripe berries first!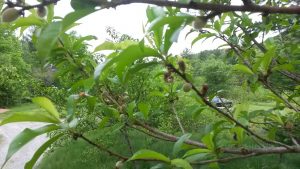 And speaking of bumper crops! This is one of several peach trees on the property. If you look closely, you will see little baby proto-peaches!  Having never had fruit trees before, I think I'll need to do a bit of research. I already know I'll need to cull many of the peaches if I want to have a decent crop, otherwise they will overwhelm the tree's ability to sustain that many.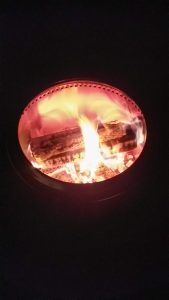 I will leave you with the glowing eye of Mt. Doom. . . . Or the first bonfire of the season. We sat out on the back porch watching the fire dance and listening to the crackle of wood.